Whatcha think about the title? My fear is that anyone who would actually read my blog, won't be able to find it! ;-)
-------------------------------------------
The 'Not' Top Ten of the Dan Hawkins
Era
Error
11/7/2010: 2:40PM MST By

G The Producer
You know how it works on ESPN. Rather a top ten of highlights, they feature a segment of the not-top ten. When sitting down to make a blog post, I found it much easier to make a list of the not top ten of the Dan Hawkins Error… uh… Era. The biggest challenge was coming up with 10, as this list could easily be the top 20, 30, or even 50. Here's my not top ten:
#10- Friday November 27, 2009: vs. Nebraska, L 20-28
The story here is not about the game itself, nor is it about the announcement that came 24 hours before it when Athletics Director Mike Bohn announced that Dan Hawkins would be retained for another year. The story that made its' way onto my not top ten list was about the crowd, and the press conference that followed.
To say that Folsom field was 1/3 red is probably giving too much credit to the Buff crowd that day. The announcement that Hawk would be saved pretty much guaranteed a lack-luster crowd. The most excitement to Buff fans displayed was when the "Boo Birds" were released, and when a public service announcement came onto the video screen featuring CU Chancellor Phil DiStefano, also accompanied by boos.
Hawk had already been saved, there was no need to answer the question in the Presser following the loss to the Lil' Red. But when the question came if the coach had any messages for his critics (or supporters alike), Hawkins felt the need to defend himself further, "In my way of thinking… This place was burned to the ground. Burned to the ground in every way…" This led another media charge, and a PR disaster, as alumni began climbing out of every crevist in the earth to declare how offended they were by the statements. If Big 12 North Champs is burned to the ground, what is the program now? Dust? Are we a molecule unseen to the human eye? A hole? A crater? The Grand Canyon?
#9- Saturday October 23, 2010: vs. Texas Tech, L 24-27
Tyler Hansen went down on an option play (the same kind of play that Dan Hawkins says he doesn't condone, not wanting to make the QB the Running Back). Re-enter Cody Hawkins, and here comes an offense Buff Nation has not seen this year. Hard to argue that #7's initial spark didn't look like a redemption tour beginning for Cody. But the coaching staff fell in love with the pass, of which Tech coaches "adjusted" to

;
( ad·just Verb:

1. Alter or move (something) slightly in order to achieve the desired fit, appearance, or result. 2. Permit small alterations or movements so as to allow a desired fit, appearance, or result to be achieved.

)
In case our fans forgot what the word meant.
The Buffs blew two different 2-posession leads, and was the 3rd in a losing streak that now stands at 5.
#8- Saturday November 7, 2009: vs. Texas A&M, The Powder-Blue
No it wasn't a giant success. However, the craze made it into almost every local publication and the distaste by some fans led to comments from both the AD and the Head Coach. In a display of losing his locker room, I was able to obtain from players that the coach showed every reason why the Powder-Blue Out was bothering him. Players said it motivated them and rallied them to a Buffs victory at Folsom. However, because Dan Hawkins is a child, the victory was not enough of a message. After the game Hawk was asked for a response on the Powder-Blue faithful, and he took his shot: "Real Buffs wear Black and Gold."
It begged the response: Real coaches don't have Not Top Ten Lists dedicated to them and their blunders.
#7- The Debacle That Is Tyler Hansen's Redshirt
Hansen began his career at CU as a redshirt. However, on Homecoming of 2008 vs. Kansas State, the redshirt was burned as #9 led the Buffs to a much-needed victory. Two weeks later, Hansen's playing time became sparse as he was benched at halftime when the Buffs hosted Iowa State. Many claimed it was a waste of a redshirt, as his little playing time was not enough to send the Buffs to a bowl.
The 2009 season began with news of an EPIC QB-battle between #7 and #9. In the end, Hawkins took the field against Colorado State. Weeks later, Hansen told the media that the plan all along was to redshirt him… So much for that epic battle?
Six weeks into the season, after a 14-point swing went in favor of Texas (a 99-yard interception return for a TD), and the game now out of reach, the coaches had their annual "Tyler Hansen Redshirting Party." The announcement after the game was that the era of his son at QB was over, while only 3 days later Coach Hawkins said we would probably see both QB's. The switch, of course, was also made controversial when Hansen was pulled in Manhatten, KS because Cody was more capable of running the 2-minute offense.
Many came to Hansen's aid claiming he was constantly looking over his shoulder.
Another QB-battle was claimed in 2010, but the news everyone knew was the case came to fruition as Hansen was named the starter for the 2010 season. Hansen played inconsistent, aided by the O-Line, and play calling. In a shutout loss to Missouri, the inept offense was hardly Hansen's fault, as he completed 75% of his passes with rinky-dink play calling… But the coach made the statement that it was, and benched Hansen shortly after halftime. Cody faired no better, adding to his career interception record, and garnered no points. Hansen displayed his anger and discontent for the decision, and for many, the anger and frustration was a common denominator.
#6- Sunday September 6, 2009: Vs Colorado St (@ Folsom), L 17-23
Anyone watching the game knew it wasn't nearly as close as the 6-point spread. CSU came into our house and punched us right in the mouth. This was a team that was as hyped as any in the Dan Hawkins era, and Dan Hawkins himself felt that it was a team capable of "10 wins, no excuses."
It wasn't bad enough to lose to your little sisters from Ft Collins at home, but CSU fans rushed the field and stomped on Ralphie's logo at the 50 yard line.
The team was too cocky, and while more talented, CSU was more motivated, more prepared, and proved to have the better gameday coaches on the west sideline at Folsom that night.
#5- Friday September 11, 2009: @ Toledo L 38-54
Not only did the Buffs get their behinds handed to them, they did against… TOLEDO? Not only was it Toledo, it was a Toledo team with a new coach. The Buffs gave up 624 of offense, and on National Television, the Buffs surrendered one of the most embarrassing A** kicking's in CU history. Toledo? Really?
PS- Toledo finished the year 5-7 (3-5 in the MAC), and had losing efforts against Purdue (5-7), Western Michigan (5-7), Temple (9-4), Miami-OH (*1-11*), Central Michigan(12-2), and Bowling Green (7-6). It was the team's highest in rushing, passing, and total yards, as well as points the entire season.
#4- Saturday September11, 2010: @ California, L 7-52
Not to mention Cal is a very mediocre Pac10/12 team, this was a loss that was devastating to Buff Nation because of its' audience. Between 7-10,000 Buff Fans made the trip, as well as our future conference commissioner and reps of the Pac 12. The team, with higher expectations were on center stage of their future associates; completely unprepared, unenthusiastic, and poor performance made many Buff Fans rush to their computers to make sure that the Pac12 move was a done deal… It was certainly worrisome that they might change their mind after this blowout.
The Colorado AD, Chancellor, and President made the trip to Cal, hoping it would be a huge fundraising expedition. Think it was a successful as it would have been if the Buffs had actually traveled to Berkeley? (You know what I mean).
#3- Saturday September 2, 2006: Vs. Montana State L 10-19
Say what you want, new coach, new staff, new players, the cupboard was bare…
There is no excuse for losing to a D-1AA team, and a mediocre one to boot. Maybe this was Dan Hawkins hinting to us early on, "I'm in over my head." Looking back on it, this was certainly the beginning of the end.
The Bobcats finished 8-5 in D1-AA/Big Sky Conference. Following the victory over CU, Montana State went on a three-game losing streak where they were outscored 99-34… which included a 45-0 beat down by UC-Davis; Irony? (Dan Hawkins alma mater is UC-Davis).
#2- Saturday October 2008: @ Missouri, L 0-58
I guess Hawkins thought we still had a chance? He turned down numerous opportunities to kick a FG and avoid (what was reported as among) the longest streaks of consecutive games without getting shutout. Of the many Colorado marks that Dan Hawkins has destroyed or negated, this one was certainly painful to stomach considering the student-body fan base was more than likely short of an itch in their father's pants the last time the Buffs were shutout.
#1- Saturday November 6, 2010: @ Kansas, L 45-52
History was made this day. Not only did the Buffs give up 35 points in the 4th Qtr and blow their biggest lead in CU History (and KU history alike), they did it to Kansas. Not the Kansas of the Coach Mark Man-Planet days, but of the first year (former Fusker) Head Coach Turner Gill.
Do I need to go into details? Am I going to tell you anything you don't know, or anything that will fall short of making you lose your lunch?
As Larry Zimmer said on the 850KOA broadcast, you can't blame this on the players. Dan Hawkins was trying to save face (he thinks it can be saved… that's cute), and again displaying that he is no more mature than some of his 18 and 19 year kids on his team… tried to run up a score against Kansas. It blew up in his face, and many would agree, got exactly what he deserved.
Feel free to leave comments, your own list, or your own arguments.
-Sat Nov. 10, 2007 vs. Iowa St, L 28-31: The Buffs blew a 21-0 lead, beginning with a poor coaching move to go for it on 4th down. Blame the refs or whoever you want, the last drive that inhibited us from kicking the game-tying field goal could have been prevented by better clock management… Coach?
-Sat, Nov. 1, 2008 @ Tex A&M L 17-24: aTm scores 21 points in the 3rd Qtr of a game the Buffs dominated. The Buffs threw 2 redzone picks, including the big one by Cody Hawkins, who entered the game after Tyler Hansen had led the team 80 yards down the field. The staff continued to play musical chairs at QB. Another question came (even after losing Rodney Stewart in the game to a season ending injury), Darrell Scott who ran the ball 10 times for 66 yards, didn't play a single snap in the second half.
-Sat, 0ct. 9, 2010 @ Missouri L 0-26: Coming off a huge win over Georgia, the Buffs traveled to Missouri and were once again outgained, outmanned, and surprise! Surprise!… outcoached. Tyler Hansen was benched after starting 15-21 for 117 yards, while the lack of scoring was clearly not Hansen's fault, the coaches decided to make the statement that it was. Cody Hawkins faired no better going 16-25 for 133, 1 red zone interception, and no points.
RECENT CANDIDATES LEFT OFF THE LIST:
Sat, Oct. 16, 2010 vs. Baylor L 25-31
Sat, Oct 30, 2010 @ OU L 10-43
Go Buffs
----------------------------------------------------------------

Buff Fans,Take a Seat. Admin, Get off your A**!
10/31/2010: 3:24PM MST By

G The Producer
No really Buff Nation… Take a seat. Relax. Be patient!
Sure, it's hard right now, but think of the repercussions.
Following a 43-10 drubbing (and those who saw know the game was not nearly as close as the 33-point spread might suggest), every inch of Buff Nation is fuming: chaotic banter, anger, apathy, and depression.
I got a dose of my college education at our Staple University (transferred in), after a college athletic career fell a year short due to various reasons. I took a variety of Psychology courses at CU-Boulder, and remember turning to my $300 new edition textbook (because the author and publisher decided that they wanted to write a new forward, change the color schemes, and add a heavy-duty hardback cover that—judging by the cost—was made from the lining of Pope John Paul's robe), to read about the "7 Stages of Grief."
My CU-B education has enabled me to break down the 7 stages along a timeline of Golden Buffalo Football Fans: Shock & Denial, Pain & Guilt, Anger & Bargaining, Depression-Reflection, Upside Turn, Reconstruction, and finally Acceptance/Hope.
STAGE I: SHOCK AND DENIAL- (2003-2005)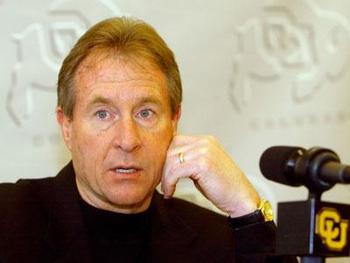 -A 'supposed' recruiting scandal, a female kicker, NEW President, NEW Chancellor, NEW AD, a Big 12 Championship drubbing, fire your coach, race to Boise, Idaho, enter Daniel Hawkins.
Stage I Summary: "This place is in bad shape. Change is needed. Bring some new faces, a tune-up, maybe a little paint-job… we'll be fine. I think…"



STAGE II: PAIN & GUILT- (2006)
-Fast-forward: MONTANA STATE-19, COLORADO-10 (2-10 season).
Stage II Summary: "How did we get here? How can it get worse than this? Barney left us hung to dry, we'll get this fixed;" after all, 'The worst day as a Buff is better than the best day as a *usker.'



STAGE III: ANGER & BARGAINING- (2006-2007)
-2-10 in Danny's first year, and we're 2-2 in his second year. Oklahoma is coming to Boulder next week, this isn't picking up very fast.
Stage III Summary: "This is moving too slow, but it's Barnett's fault, it's the former Admin's fault, blame the State—they need to support the University! Who else can we blame? Why us? Why now?!"



STAGE IV: DEPRESSION, REFLECTION- (2007)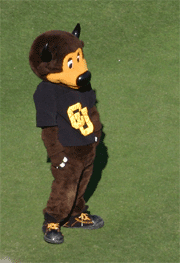 -So we upset Oklahoma, and took *ebraska to the woodshed. But we lost some winnable games: @ K-State, home vs. Kansas, and completely blew a 21-point lead in Ames, Iowa. Got a bowl game, but we lost. Said goodbye to T-Wheat, Polumbus, Kai Maiva, Hugh Charles, Jordan Dizon, and most fondly… our kicker.
Stage IV Summary: "We had some nice wins, but let some get away. We're losing some pieces. The program is still in bad shape, we may never be good again. But this place was in shambles, let's be honest."



STAGE V: LOOKING UP- (2007-2008)
-A 6-win season, a bowl game, #15 class in the country, enter Darrell Scott. Beat CSU, beat Eastern Washington, overtime thriller over WVU. Extend Dan Hawkins, put Aric Goodman on scholarship, get ready for Florida State!
Stage V Summary: "Are you kidding? If we beat FSU we'll be ranked. With guys like Darrell Scott, Josh Smith, Max Tuioti-Mariner, Shaun Mohler, and Lynn Katoa… How can we lose?!"
STAGE VI: RECONSTRUCTION, WORKING THROUGH- (2008-Present)
-The record, the development, the questionable remarks to the media, the players leaving the program, the lack of development, the halt in adequate recruiting, the list goes on… "In my way of thinking… This place was burned to the ground… Burned to the ground in every way."
Stage VI Summary: "Didn't he take over the Big 12 North champs? We had thought that the previous regime had spiked the koolaid, turns out someone put a turd in the punchbowl and did it right in front of us."
Was it adequate? No, but considering what Barnett was still able to accomplish under the scrutiny, the criticism, and a microscope that (unlike Hawkins has dealt with) was magnified by the national media. ESPN doesn't waste their time on irrelevant football programs, unless your school starts with "No..." and ends with "me."
STAGE VII: ACCEPTANCE & HOPE- (20??)
I ended my post-game show last night by advising: if this place was truly burned to the ground when Danny took over, then we need to pray for the next coach.
Why Stay Tuned? Stage 7 is up to our administration, there next move is vital, not only for us, but for them. Their ducks must be in a row, and they must be ready to move quickly. It is clear to me by now that Dan Hawkins is our coach until November 24th. They had a window, but that window has now closed.
The pros of dumping Hawkins now: Make the fans happy, show the fans you are committed to football.
The cons: Giving players an extra month with no coach to decide when and where they want to transfer, gives recruits an extra month to talk to other schools, take more visits, and drop any interest in the University of Colorado, will the assistant coaches carry on? No, they've got families to feed, and their own search for their next job. What kind of message are you sending to potential coaches, particularly one with options? Would you go to a job where the school has shown a set of values to axe you in the middle of the season? Lastly, the window has closed to add luster to the firing, you are sending a clear message that the season is over and turning your back on the seniors by making the ultimate statement that this program is now only about the future.
Now many of you are going to point Minnesota and North Texas who canned their coaches mid-season.
My response is to ask what positives have come from this? Were the results on the field drastically changed by the move? Maybe for North Texas if a win over Western Kentucky is impressive to you. Similarly to what CU faces, Todd Dodge left a QB-offspring behind in his son Riley, a Sophomore.
UNT defensive lineman, Brandon
Akpunku
chipped in:
"Riley is a really strong kid and has been holding it together," Akpunku said. "He came out here as soon as it happened and was ready to practice. As players, we have a lot of eyes on us. When you are a coach's son, everyone is watching. For someone with as big a target on his back as he does, he has been holding his composure really well."
A QB in his sophomore season is one thing. A QB in his final 5 football games in his whole life is another. But those who want to draw concrete comparisons to UNT and think we should take their lead, please take a step back and think about what you're suggesting. Personally, I'm not interested in drawing any comparisons to the Mean Green, unless it's we beat UNT by 50 and CSU by 51… "so UNT is better."
And what about Minnesota? Like UNT, no coach has been named, and many potential candidates involve tampering issues if in contact. Minnesota has already had multiple players come out publicly and declared their plans to ask for a release at seasons end, if they haven't done so already. And who's to stop them? The AD? Shouldn't his attention be dedicated to finding the next coach? "Tim Brewster was fired after a dismal 15-20" according to one Minnesota journalist. If 15-20 is dismal, what is Danny's record considered?
But the product has not changed, the Gophers are not only winless since Brewster's termination, they haven't even been competitive. And it looks as though it didn't do much to invigorate the fans either: before Brewster was fired, the average home attendance was reported at 49,800 in 2010. Since Brewster's firing the average attendance is down to 48,000—and that includes games against Penn State and Ohio State, fans that tend to travel well.
Take a seat Buff fan, be patient, as hard as it might be. The damage done by the Daniel Hawkins regime will only increase if a move is made now. We had a window, that window has shut and locked. Take a seat, have a drink… preferably non-alcoholic, as that will only delay Stage 7.
But while I urge Buff fans to have a seat, our administration MUST get off their a**. My hope and trust in our leaders is beginning to come into question. But trust me when I say that there isn't a single person involved in that University that isn't under pressure, isn't disappointed in the product on the field, doesn't want to win, and isn't tired of their e-mail becoming unusable with the inbox flooded with hate mail.
Hawk is our coach, our coach until *ebraska. If I'm wrong, I will join Buff Nation in a victory dance of your choice (bring back the Macarena?). But to fire him without a plan, without the ducks in a row, and without a staff ready to take on damage control, it is not only a bad idea... it would be irresponsible.
However, by November 24 our administrators BETTER be ready to move and move at a Usain Bolt-like pace. Because if not, the fans who live and die with the motto "I am a Buffalo; We are Colorado," will move at a Bolt-like pace, with Ralphie-like force. Trust me, you don't want to be on the wrong end of that stampede.
Go Buffs